On-Site Lodging
No matter the occasion, whether it's for a wedding, event, or a weekend getaway, Tennessee RiverPlace offers an array of onsite lodging choices to suit your preferences.
During your event, rest in the luxury of our recently renovated Main Villa. Each of the five comfortable guest rooms within the grandeur of our 10,000 sq. ft. Spanish mansion has been thoughtfully decorated and furnished with updated decor. All showcase a comfortable king mattress and boast a generously sized private bathroom. Regardless of the room you choose, you'll be treated to pleasing views of the sprawling farm and the majestic Tennessee River.
Looking for an ideal spot to savor your morning coffee or enjoy evening cocktails? Indulge in the serene ambiance and gentle breeze on our wrap-around porch. Nestled upstairs, you'll find a common area exclusively for our guests, featuring convenient amenities such as a microwave, ice machine, coffee station, and laundry room. Whether you're seeking a peaceful weekday getaway or a convenient retreat after an event on our property, our Main Villa guest rooms are guaranteed to exceed your expectations.
Click photo to enlarge gallery
Click photo to enlarge gallery
You and yours will find captivating views of the Tennessee River Gorge and the enchanting Williams Island in this serene guesthouse. The Little River Guest House is designed to accommodate up to 19 guests across six inviting bedrooms, each complete with its own en suite bathroom. Two of these bedrooms are thoughtfully designed to be accessible for individuals with disabilities, ensuring comfort and convenience for all. The idyllic location, impressive scenery, and secluded ambiance guarantee that you and your guests will create cherished memories that will last for years to come.
The heart of The Little River Guesthouse lies in its main gathering area, where an open-concept living space seamlessly blends with a well-appointed kitchen and a spacious adjoining dining area. This communal space serves as a focal point for socializing and shared experiences, creating an atmosphere of togetherness. Rooms 1 to 4 are conveniently located near the main gathering area, offering easy access for all guests. Additionally, rooms 5 and 6 are situated in a separate wing on the ground floor. Each room opens directly onto a deck and patio, allowing guests to revel in the scenic beauty that surrounds the guesthouse from the comfort of their room.
Nestled further back on the property, bordering enchanting woods, your party will discover a tranquil retreat in our charming five-bedroom, four-bathroom home. Ample outdoor space allows for relaxation and immersing yourself in the beautiful scenery that surrounds you. The main level of The Fryars' Green Guest House features a spacious gathering area, complete with a comfortable sleeper sofa, where you can unwind and connect with loved ones. A fully equipped kitchen awaits your culinary adventures, and a half-bath adds to the overall convenience. A laundry room is also available for guest use, ensuring you have everything you need for a comfortable stay.
Upstairs, you'll discover four well-appointed guest rooms, two of which boast en suite bathrooms for added privacy and comfort. An additional family bathroom ensures convenience for all occupants. Each room invites you to unwind and recharge in a cozy haven. The downstairs area of the home offers a self-contained apartment, providing a private retreat within the larger property. Here, you'll find a full gathering space with another sleeper sofa, a half kitchen, and a bedroom with its own en suite bathroom.
Click photo to enlarge gallery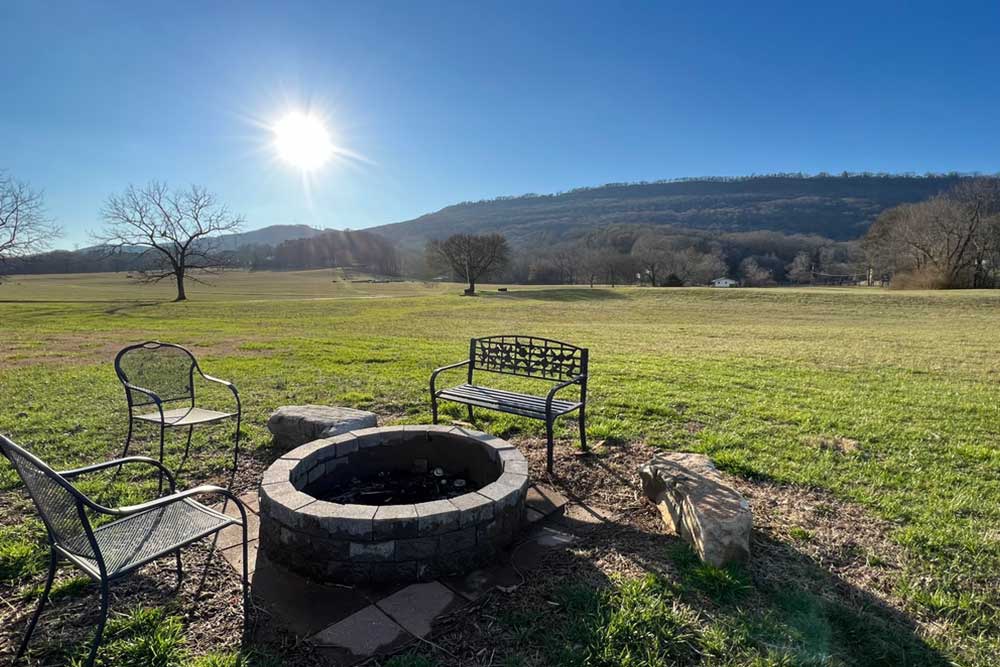 Warm and Inviting Amenities
Each guest house comes complete with its own fire pit, where you can end a day of adventure with a relaxing evening underneath the stars. Tennessee RiverPlace also invites your four-legged friends to help explore our 135-acre farm.
Our charming guest accommodations offer access to wireless internet so that all guests are welcome to stay connected while here. Your guests will also enjoy ample self-parking and Tennessee River access, as well as walking trails across our 135 acre property.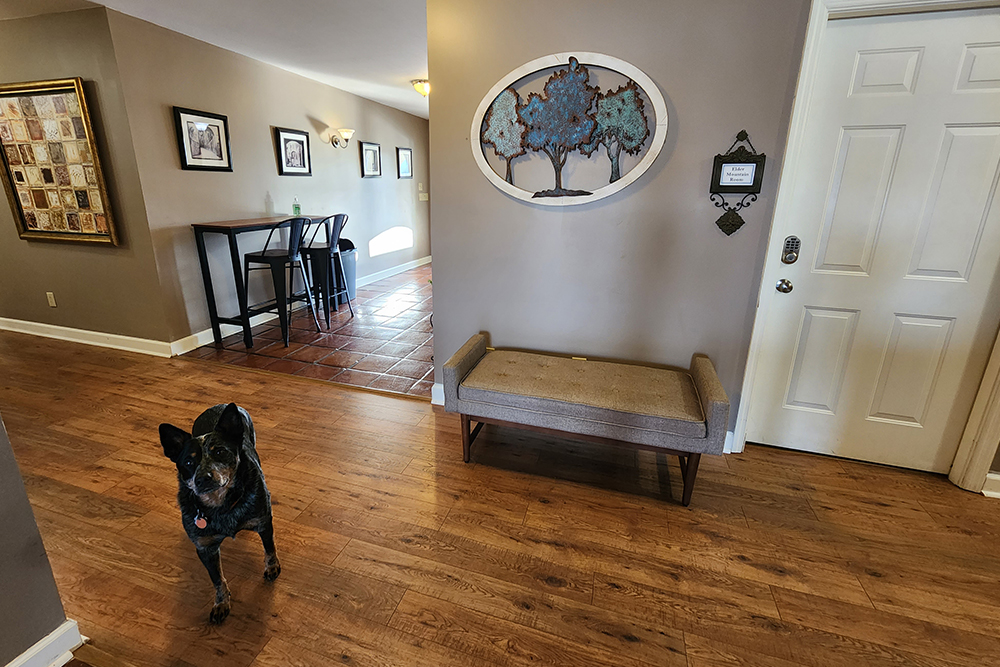 Pet-Friendly Accommodations
Farms are an ideal haven for our beloved four-legged companions, and at Tennessee RiverPlace we embrace that. We happily welcome pets of all sizes to enjoy the 135 acres of land to explore and river access for a refreshing dip. There are no weight restrictions at Tennessee RiverPlace.
While we do not require pets to be crated, it is important to adhere to Chattanooga's leash laws, ensuring the safety and comfort of all guests. Your pet is sure to feel right at home on our spacious farmland and waterside acreage.